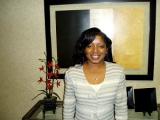 Independent Associate
Debt To Wealth, Inc.
EVP Infinity
Join the Movement of the Century!
Success Stories
myEcon's low cost, high value, digital platform provides amazing results for clients in credit repair, debt elimination, financial education, and affiliate income. I earned over six figures in my first few months and my income and affiliate team continues to grow every day.
B. Marler
Toms River, NJ
myEcon has been the biggest blessing to my family. I've never seen such an amazing company like this before. Not only am I happy to be my own boss but I'm able to spend more time with my daughter & have more freedom. In my first 5 months, I generated $50,000 from the comfort of my home and utilized the credit repair training to increase my credit score by 100 points. On top of it all, thanks to this amazing company, I was able to purchase a brand new Mercedes-Benz SUV for my family. I never thought this would all be possible but I am living proof that anyone can do this. Thank you myEcon!
J. Hedrick
Richlands, NC
I was a successful business owner before myEcon. After joining myEcon, the Income Shifting Strategies took me to a new level. I generated over $1,000,000 my first 14 months and have not looked back. myEcon's Income Shifting Strategies are life changing!
B. Ellis
Greensboro, NC
myEcon is about empowerment and family. myEcon has empowered our family to generate over seven figures in cashflow. We then used the knowledge and some of the cashflow acquired in myEcon to build our own multi-million dollar family business. We also invested in other family members to build a successful restaurant. myEcon has empowered us to be a blessing.
L. Gibbs & C. Josey
Woodbridge, VA
myEcon has been amazing for me & my family. In just a few short years, we have become debt free and built a six-figure retirement income. Using myEcon's software and support tools, we helped thousands of people improve their credit, eliminate debt, become investors and earn great business income.
S & G LaCapra
Lorton, VA
Even with 2 college degrees, I kept running into that glass ceiling and was unable to earn enough income to live the lifestyle I desired. When I joined myEcon, everything changed. I earned over $20,000 in my first six weeks and I have not looked back. I have earned over $10,000 in weekly income multiple times and became a millionaire in less than 36 months. The income is great, but I also helped thousands of other people improve their finances.
C. Williams
Memphis, TN
I love myEcon! I have an MBA in finance but myEcon enhanced my financial education. myEcon has helped me cashflow over $100,000, increased my credit score to over 750 and built significant wealth in my investment portfolio. More importantly, I've helped thousands of people eliminate debt, improve their credit scores and earn affiliate income.
A. Williams
Chicago, IL
I made it to the top of multiple companies and earned over 7 figures before my 30th birthday, but because I didn't have a great financial education, I lost it all. I found myEcon at age 38, got it all back and more. I've earned over seven figures and become a financial expert. Today I enjoy teaching others how to generate income by investing and business building.
B. Beane
Atlanta, GA
We built a successful family business in the financial services industry by educating clients on Insurance, Investments and Entrepreneurship. After joining myEcon, we expanded our reach into credit restoration, debt elimination and cashflow management. myEcon empowered us to expand our team and cashflow rapidly.
S. & A. Hill
Greensboro, NC
We have been successful entrepreneurs for many years. Building a team of over 10,000 associates in our first 36 months has enhanced our income and expanded our business reach. myEcon has empowered us to be a blessing to thousands of people.
J. & W. Bobo
Memphis, TN
myEcon is an amazing company. I earned over $100,000 in my first seven months, raised my credit score and enhanced my financial education. My team continues to grow, and their success stories continue to evolve. myEcon's Income Shifting Strategies are truly life-changing.
D. Pelegrin
Columbus, OH
myEcon came to our life in perfect timing. I had a great job, but it required me to be away from home a lot. When my wife and I had twin boys, who had health complications at birth, I realized I needed to be home with my family. We were already doing myEcon part time, so I resigned from my job, and went all in, full-time myEcon. Our boys are doing great, our business is successful, and we are known all over America as founders of The Royalty Movement.
M. & A. Smith
Little Rock, AR
myEcon has been a blessing for our family. We are both veterans of the U. S. Armed Services. Before myEcon, our budget was tight, but after using myEcon's Income Shifting system in our spare time to cashflow over $700,000.00, we enjoy financial freedom.
T & D Hill
Anchorage, AK
I am a career nurse in a small town in north Georgia. I joined myEcon to make some extra income. What happened, surprised me and changed my life. I learned about the W4, taxes, debt elimination and investing. Correcting my W4 and lowering my taxes gave me extra cashflow to pay off $48,000 in consumer debt in 35 months. After the debt was eliminated, I used the extra monthly cashflow and affiliate income to become an investor. Today, I am debt free and have well over a million dollars in my investment portfolio.
J. Butler
Athens, GA
I joined myEcon when I was very young and just starting out in life financially. Over the past 14 years, I have generated over seven figures in cashflow, built a great credit score and become a successful businessman. myEcon is definitely a blessing to my family and thousands of other team members.
J. Pettiford-El
Detroit, MI
Our myEcon experience has been amazing. My wife and I generated over a quarter of a million dollars in our first 20 weeks and our income is still growing. We have also built an amazing team of successful affiliates that have generated great income and built strong credit scores.
A & C Delgado
Laurys Station, PA
myEcon has been an amazing blessing to us. We are in our mid-20s but myEcon has put us on the road to financial success. myEcon has helped us increase our financial education, improve our credit scores and average almost $5000 in weekly affiliate income.
C. Hawkins & C. Carter
Melbourne, FL
myEcon totally changed my life. I struggled financially for years. myEcon's Income Shifting Strategies gave me a financial education and myEcon's World Class Compensation Plan empowered me to build a six-figure annual income. I thank God for myEcon.
E. Townsend
Houston, TX
myEcon was a Game Changer for our family. In our first year, we eliminated over $100,000 of debt and raised my credit score almost 200 points. Over the last 7 years, we have cashflowed over seven figures and built a great investment portfolio.
K & C Tucker
Mitchellville, MD
myEcon's financial strategies are tested & proven. I had a great corporate job, with a Fortune 500 company. I combined the financial strategies with my corporate income and walked away from Corporate America, financially free in my forties. I have been retired and enjoying life for over 10 years.
T. Gray
Dallas, TX
Before myEcon, our finances were spotty. Our credit was not good, we owed the IRS and we had no significant assets. After learning and applying myEcon's Income Shifting Strategies, our credit is great, our taxes are minimal and we have built over a half million dollars in assets. We are proud to be in myEcon, and to help clients achieve their financial goals.
J & P Williams
Dallas, TX
I am a veteran financial advisor with over 30 years of experience and thousands of clients. For many years, I looked for a low cost, system with software support that I could use to help my clients with everyday issues like credit repair, budgeting, tax record keeping and start up investing. In 2009, I found myEcon. The bottom line is the system works! myEcon provides the best, low cost, digital platform for managing cashflow and generating affiliate income. I have built a six-figure income passive income and helped thousands of clients.
C. Thomas
Little Rock, AR
Previous
Next